Mohamed Sidibay '21
is channeling his activism
to change the world
There are 258 million children worldwide who lack access to quality education.
Mohamed Sidibay '21
, who at one point was one of these children, is channeling his activism through his law studies and professional experiences in order to change that.
By Zaina Arafat
Julie Kerwin '95
knows that sometimes, battling gender bias is actually child's play. Here's what this entrepreneur is doing to make the toy industry more girl-friendly.
By Liz Krieger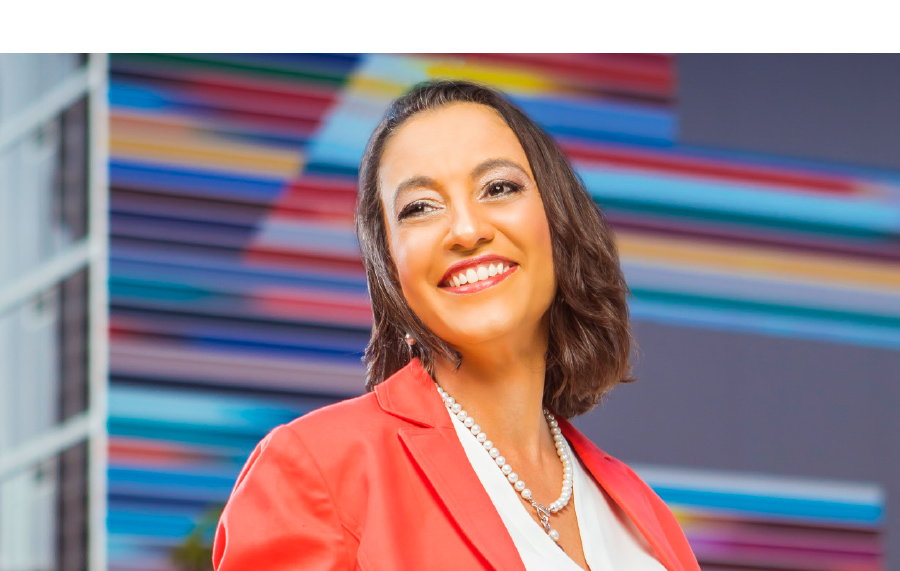 Grissel Seijo '06
has dedicated her career to making the workplace more diverse and inclusive.
By Sheila Weller
Following her instincts,
Meghan Iorianni '13
has charted a unique path in public service and international law.
By Pamela Kaufman
A commitment to serving others has been a constant for
Rep. Tom Suozzi '89
.
By Eugene K. Chow
The pandemic has revealed the importance of connection in our personal and professional lives.
Notable op-eds authored by Fordham Law faculty.
The Parole Information Project sheds light on a dark subject.
Fordham bids farewell to five beloved faculty members.
The Fordham Law community has raised more than $85.5 million for legal education.
Highlights from the Fordham Law Newsroom.
Brian Seymour '97 showed up in shorts for his first interview … but still got the job.
Celebrating achievements, marriages, and births, and remembering those we lost.
The class of 2021 celebrated in style—and in person—at a joyous event at Rose Hill.
This past year has been a time of enormous challenges and extraordinary upheaval marked by personal losses and an unprecedented disruption to the way we live our lives. "As we emerge from this era, we have come to understand how critical community and connection are for us to thrive," says Dean Matthew Diller. "We have a renewed understanding of how we need to affirmatively nurture, build, and treasure our connections and attachments to each other."
In this video, Dean Diller explores the importance of connection and how the Law School's dedication to service uniquely prepared the Fordham community to weather this storm.
Photos courtesy of Mohamed Sidibay, cover photo by Idris Solomon
There are 258 million children worldwide who lack access to quality education.
Mohamed Sidibay '21
, who at one time was one of these children, has channeled his activism through his law studies and professional experiences in order to change that.
M
ohamed Sidibay '21 still remembers the first time he took a hot shower. He remembers the first time he had a bed to himself. And he will never forget the first time he ate at an all-you-can eat school cafeteria in his adoptive home of Maplewood, New Jersey.
"I filled my plate with enough rice to feed an entire continent," Sidibay recalls. "I felt like I was eating not just for that moment, but for the time since I was 5 years old and for the rest of life that awaited me. My objective was to eat for the past, the present, and the future in that one sitting."
There is a reason Sidibay remembers all these firsts, which most 28-year-olds would take for granted: Until the age of 14, his days were characterized by uncertainty over where he would sleep, if and what he would eat, if he would receive a quality education, and, most important, whether he would live or die.
Entrepreneur Julie Kerwin '95 is making waves in the toy industry with a line of inspiring girl-friendly action figures designed to empower.
Back in 2012, Julie Kerwin '95 noticed something curious happening
every time her two young sons went on playdates. Whenever the boys would gather at the homes of their female friends, the playdate would end with the girls dressed as princesses and the boys bounding around as sword-wielding knights, ultimately rescuing the damsels in distress. But when the playdate was at Kerwin's house, where they had plenty of action figures to go around, "all the kids would end up as knights, or wizards, often using various action figures as part of their pretend play," says Kerwin.
Thinking further, it hit her: There were few female action figures on the market, particularly figures that felt right for kids. "It was impossible to purchase a female action figure—including Catwoman and Batgirl—that wasn't hypersexualized: Boobs were often bigger than waists; legs were impossibly long relative to bodies," she says. "And their rear ends were as wide as the Grand Canyon! These were not appropriate toys to put in the hands of a child—because they weren't being designed for them!" In fact, Kerwin notes that men make up the vast majority of comic book readers and buyers of collectibles, and they gobble up action figures just like kids do.
Reflecting on how she could come up with something that was actually meant for girls, "I realized that it wasn't about superheroes; it was about superpowers," says Kerwin. By superpowers, she meant the traditional kind, like superhuman strength or x-ray vision. But she was also thinking of more meaningful character traits, including bravery, ingenuity, creativity, industry, and persistence, to name a few. And thus her idea was born: to create a new, better line of action figures—which she dubbed IAmElemental—to help inspire a new generation of girls.
A Passion for
Real Change
A Passion for
Real Change
Grissel Seijo '06 has dedicated her career to making the workplace more diverse and inclusive. Heartened by the national awakening around racial justice, she is cautiously optimistic about the future.
By Sheila Weller | Photography by Sonya Revell
In the fall of 2019
, when I met Grissel Seijo '06, counsel, employment, diversity, and inclusion, U.S. and international, for Restaurant Brands International (RBI)—the company that owns Popeyes, Burger King, and Tim Hortons—she had just attended the Hispanic National Bar Association annual conference and was excited about the rich discussion of diversity and inclusion that had taken place. As a woman raised in the South Bronx by Puerto Rican parents, this 4'11" powerhouse explained that she wanted both qualities to flourish for the 1,200 corporate and 3,000 restaurant-level employees in her company's venues throughout the world. "I do everything," she said. "I advise on hiring, firing, coaching, discipline, and workers' compensation." But it's Seijo's work as a diversity and inclusion official that is closest to her heart. "It's my passion," she says.
The Year That Changed Everything
What a difference a year can make. Though Seijo's enthusiasm for transforming the workplace was intense back then, the events of 2020—the global COVID-19 outbreak and the rise of a national movement for racial justice—only intensified it. For a company consisting largely of food-service workers and franchisers, Seijo says that RBI's employees' and clients' safety was a consuming challenge, requiring—and begetting—"an all-hands-on-deck response for team members, guests, and colleagues."
Bucking conventional wisdom has become the norm for
Meghan Iorianni '13
, who has charted a path from Fordham to Paris to fighting corruption in Ukraine.
By Pamela Kaufman | Portraits by Chris Kleponis
"Basically, everything I did in law school were the things you weren't supposed to do," says Meghan Iorianni '13. Yet instead of derailing her career, all those nonconventional choices ultimately prepared the 32-year-old for an extraordinary life in public service.
Before the pandemic, Iorianni had been working as a federal antitrust enforcement attorney with the U.S. Federal Trade Commission (FTC), serving as an attorney advisor to the government of Ukraine through the USAID-funded Competition Law and Policy Program. She'd arrived in Kyiv in the fall of 2018 tasked with supporting Ukraine's Antimonopoly Committee with competition enforcement—a daunting challenge given the rampant, systemic corruption that has long stymied the country's efforts to achieve a free-market economy.
"If you have effective competition law and a fair judiciary, you wouldn't have these oligarchs in Ukraine able to illegally maintain their assets—they tie up markets through anti-competitive activity and unfairly suppress the ability of small- and medium-size enterprises to grow and actively compete," Iorianni says.
During her time in Ukraine, Iorianni began thinking more about the forces in society that allow corruption to flourish. Her writing on this topic was so compelling that she and her team were asked to draft amendments to Ukraine's competition law and support U.S. anti-corruption initiatives, eventually presenting legislative suggestions before Ukraine's Parliament and Ministry of Economic Trade, Development, and Agriculture.
From the Soup Kitchen at St. Paul's to the Halls of Congress
A commitment to serving others has been a constant for
Rep. Tom Suozzi '89
—both as a student at Fordham Law and throughout his career as a public servant.
In a long, unbroken tradition,
at the end of every semester, the Fordham Law library swells with students feverishly preparing for their final exams.
But some three decades ago, amid the usual flurry of outlines, case briefs, and practice tests came an unusual request that would help set in motion a profound shift at Fordham Law.
"Please help me make sandwiches at the soup kitchen across the street," asked a young law student.
With finals looming, the request was met with shock and hesitation. Yet that student persisted and managed to convince a group of volunteers to leave the library, head over to the Church of St. Paul the Apostle, and prepare food at the soup kitchen.
Unbeknownst to him, with that bid for volunteers, Tom Suozzi '89 helped unleash a wave of student interest in public service at Fordham Law, laying the groundwork for student-run social justice initiatives that would become a model for law schools around the nation.
From race, gender, and the pandemic to the Big Tech overreach to the Capitol insurrection, Fordham Law professors offer their scholarly perspectives on the legal and political issues dominating the news.
Highlighting a key program in the A2J initiative at Fordham Law School
Getting Incarcerated Individuals the Parole They Deserve
The Parole Information Project makes tough-to-access documents accessible to families, the general public, and attorneys trying to obtain parole for clients. As the outcry over mass incarceration continues to grow, here's why this crucial resource is ramping up and why it matters so much now.
The Fordham Law community is bidding farewell to five distinguished members of the faculty who have made an indelible mark on the institution through their teaching and scholarship.
For some 35 years, Professors James Cohen, Ted Neustadt, Beth Schwartz, and Rachel Vorspan have anchored the Law School's commitment to skills training, collectively making a profound impact on thousands of Fordham lawyers. When Professor Marc Arkin joined Fordham in 1987, she was part of a new wave of academics who raised the scholarly strength and profile of the Fordham faculty, helping turn the Law School into the academic powerhouse it is today.
By Pamela Kaufman | Illustrations by Hossein Borojeni
Brad Butwin '85 is passing the baton to new leadership after guiding the Fordham Law community to exceptional heights of generosity. In 2014, Butwin stepped up to chair the Law School's $25 million Dean's Scholars Initiative, a campaign for financial aid. Under his leadership, the philanthropic drive to bolster Fordham Law's financial aid offerings ultimately achieved more than $37 million in donor support.
As momentum grew, the Law School widened its fundraising goals beyond financial aid, and Butwin led Fordham into FORWARD: The Campaign for the Fordham Law Experience. His leadership was instrumental in bringing the entire Law School community to the table and challenging stakeholders to invest in the next generation of legal talent.
Thanks to Butwin's stewardship and the tremendous generosity of donors, more than $84 million has been raised to date. After achieving this remarkable level of success and engagement, Butwin is stepping aside to create opportunities for new leaders. He will remain an active member of the Dean's Planning Council.
"It has been an honor to witness the generosity of the Fordham Law community."
No suit? No problem! Brian Seymour '97 showed up in shorts for his on-campus interview with Michael Mitrione '75, shareholder at Florida commercial law firm Gunster, but still managed to score a job offer. Here's how it happened.
By Paula Derrow | Illustration by Tom Bachtell
Michael Mitrione
(chair of Gunter's corporate practice group in West Palm Beach, Florida): It was August of 1996 and the first day of doing on-campus interviews with students. I'd flown in from Florida and had a full schedule of 20-minute slots with students, back-to-back, from 8:30 a.m. until 5:30 p.m. without a break except for lunch.
Brian Seymour (co-chair of Gunster's real property practice group): I actually didn't get selected for one of those interview slots. Gunster was looking for students who had a connection with Florida, and I didn't have that on my C.V. But I happened to be in the career planning office that day, killing some time. I was in the middle of moving from an apartment in Brooklyn to one in Manhattan, to be closer to Fordham. Everything I owned was packed up in boxes, including my suits. So I was wearing a pair of shorts, I hadn't shaved in five days, I don't even know if I had showered, but I was there and I happened to get into a conversation with Kathleen Brady, who was Dean of Career Services, about jobs and locations.
MM: I think he was also wearing flip-flops.
Fordham Law School Welcomes New Professors
Atinuke "Tinu" Adediran, John R. Brooks, Ilene Strauss, and Julie Chi-hye Suk are joining the full-time faculty.
Professors Joseph Landau and Clare Huntington Join Senior Administration
Landau, an expert in the fields of civil and constitutional procedure, succeeds Linda Sugin as associate dean for academic affairs, while Huntington, an expert in the fields of family law and poverty law, is filling the new position of associate dean for strategic initiatives.
July 1, 2020–April 31, 2021
Hon. William Corbett
and his wife, Ann, received the Donor Family Award from the nonprofit organization Hearts for Russ.
James Guadiana
joined Greenspoon Marder LLP as partner in the New York office.
Robert Alpert
was published in the Fall 2019 issue of the
International In-House Counsel Journal
.
Neil Patrick Flynn joined Rosenbaum Famularo, P.C., as the managing attorney in the litigation department.

Rita M. Glavin launched her own firm, Glavin PLLC.

Kyra F. Howell joined Bradley Arant Boult Cummings LLP as counsel in the Nashville office.

John Laguzza joined Portage Point Partners, LLC, as managing director in the New York office.

Eric W. Penzer was named to the 2020 New York Metro Super Lawyers list in the category of estate and trust litigation.

Stacey J. Rappaport was awarded "Best in Insurance & Reinsurance" at the Euromoney Women in Business Law Americas Awards 2020.
Kimberly Gold
joined Genentech as the chief privacy officer.
David L. Hecht was named to the 2020 New York Metro Super Lawyers and Rising Stars list.
Katherine C. Hughes became the director of U.S. pro bono efforts for Cleary Gottlieb Steen & Hamilton LLP. She was also elected to the Fordham Law Alumni Association board of directors.
Gabrielle Markeson joined Kilpatrick Townsend & Stockton LLP as counsel in the Seattle office.
Brian P. Morgan was elected to the partnership of Faegre Drinker Biddle & Reath LLP in the New York office.
Lindsey D. Schmidt was elected to the partnership of Gibson, Dunn & Crutcher, LLP, in the New York office.
After more than a year of social distancing, the Fordham community came together for a joyous in-person celebration of the class of 2021 at Rose Hill in the Bronx. For many of the graduates, this was the first time they had seen one another since the onset of the pandemic.
Addressing the graduates as they gathered in front of Keating Hall, Dean Matthew Diller could not suppress his excitement. "I have to say on my own behalf, I am so excited to see each and every one of you here today. You look fantastic," said Diller. "It's extra special to be able to gather today under these circumstances to celebrate your achievements and your accomplishments."
Photography by Chris Taggart and Dana Maxson
Vera Tkachuk
Assistant Dean, Fordham Law School, and AVP for External Relations, Fordham University
Youngjae Lee
Associate Dean for Research
Elisa Douglas
Senior Director, Alumni Relations and Public Programming
Elizabeth McKeveny
Senior Director of Development Operations
Senior Director, Communications and Marketing